Cromer - Where Service is Everything.
Cromer Material Handling was founded in 1989 by Marshall Cromer, a passionate, hard-working entrepreneur who expanded the Cromer organization throughout California and Nevada. While still involved in the forklift industry, Marshall sold the business in 2021 to a holding company that operates several material handling dealerships across the United States.
Today we are Cromer, Inc. and part of a larger organization that provides us more resources to serve our customers and our employees better. We have a team of enthusiastic employees dedicated to providing the best service and the right solution for your equipment needs. Contact us today. We look forward to working with you.
We Have Your Forklift, At Your Price
At your local Cromer facility, you'll find new/used forklifts and material handling solutions from top-tier brands. Cromer is an authorized new equipment dealer for BYD, Donkey, Doosan, Princeton, and Sellick. We sell a wide variety of used forklifts from many other top brand manufacturers.
In 2020, we acquired two companies in the Las Vegas, Nevada region. This added great team members to the Cromer family, and expanded our service area across two states.
We are a BBB (Better Business Bureau) A+ rated company—the only California/Nevada company in our industry to say that. Every member of our team puts our customers first. We work hard to bring you great products, service with respect, and a helpful rental fleet.
Have a material handling question? The Cromer team is happy to answer.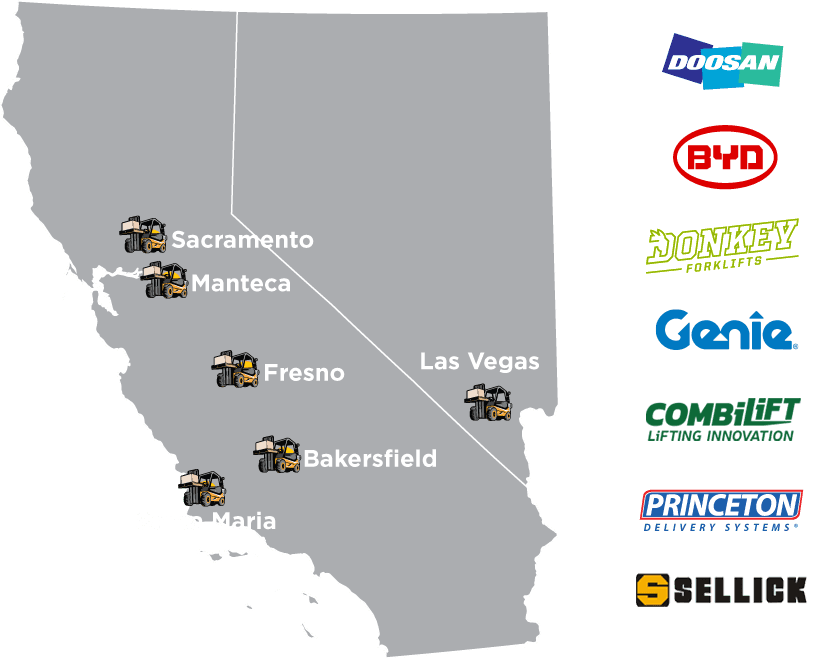 Your Complete Material Handling Resource
Need to rent forklifts for seasonal work? We have a rental fleet over 400 items, with everything from electric indoor trucks to 55,000 lb. forklifts, to 80-volt Outdoor pneumatic electrics. Visit our Rentals page for rates.
Looking for rack, shelving, dock & door, or allied product? Cromer has what you need. Each Cromer facility stocks rack & shelving through our Warehouse Systems brand. Need service at your warehouse? Our Central California facilities have expert teams certified to install & service industrial doors.
Time to satisfy OSHA's safety training requirements? Send your operators to a Cromer training facility, schedule a trainer to come on-site, or have us train your Trainer. We have Spanish-speaking trainers and we will make the process painless.
Download the Cromer Line Card

Get a snapshot of all Cromer brands, rentals, locations, and services.
Download Cromer Line Card (PDF)
Join the Cromer Team!
Ready for a long-term, rewarding career in the material handling industry? Come to Cromer, where service is everything.
The Cromer Team provides our customers with the best products and service in the industry. You'll work alongside professionals every day, with managers who make sure you have everything needed. Safety is standard.
Sounds like a place you'd want to work? See our Careers page for current job openings.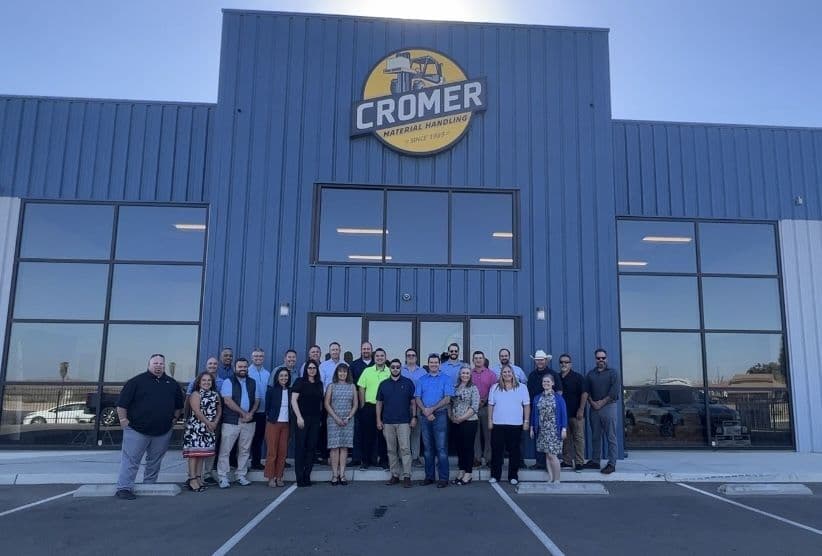 Cromer Adds 100 New Rental Forklifts, Now with Safety & Efficiency Tracking
Your next rental forklift could tell you when it needs maintenance. The Cromer fleet got a major upgrade!
Read the Article
FORKLIFT SAFETY TRAINING
Reserve your operators' next forklift Safety Training at Cromer!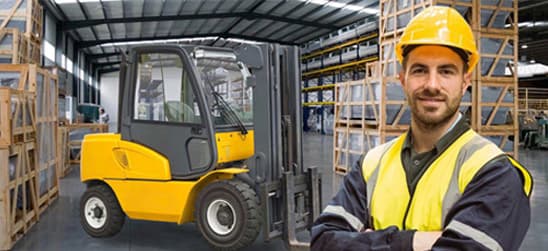 Handling Progress PDF
Cromer's popular Material Handling newspaper is available quarterly with exclusive deals