Forklift Parts & Maintenance Service for California & Nevada's Industrial Businesses
Need a part for your forklift? New tires? An attachment for Harvest?
You'll find the part you need at your local Cromer. Each of our facilities maintains a parts & accessories inventory so our customers have whatever they need, right away.
Over $1M in Parts Available
Here are examples of the parts & accessories you'll find at your local Cromer:
Forklift Parts
Forklift Attachments - Always ready to rent
Electric Forklift Batteries – Need an extra? Rent one!
Forks – Make sure you have safe, sturdy forks. We keep forks in stock for a wide variety of forklifts
LP Tanks – Always in stock
Safety Accessories – Seat Belts, Amber Strobe Light, Back Alarm, Load Back rests, and more. Try our Blue Lights for extra safety.
Solid Pneumatic Forklift Cushion Tires, EL Tires, non-marking tires, etc.
We don't just hand parts over though. Call us for a part, and you'll have Cromer Parts Specialists ready to install and test it for you.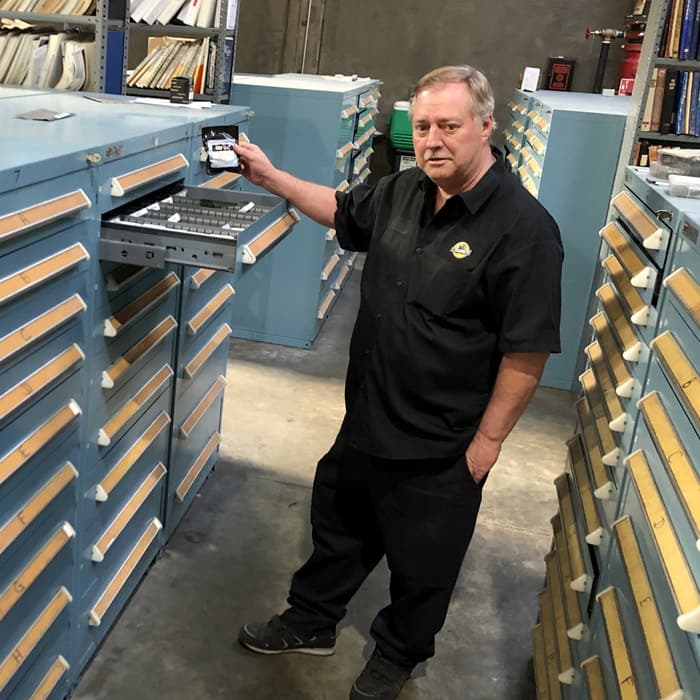 Forklift Attachments
Bin Dumpers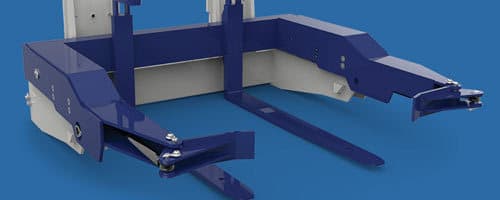 Transports binned loads, such as agricultural products. We provide vineyards and farms with bin dumpers for California's grapes, walnuts, almonds, and other harvested foods.
Carton Clamps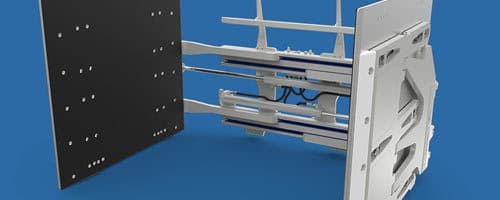 Allow pallet-less handling. Frequently used in the beverage, appliance, and electronics industries.
Rotating Fork Clamps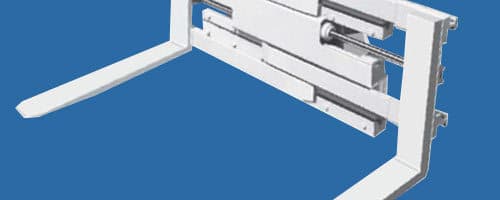 A Recycling Industry standard. Available new and used.
Push/Pulls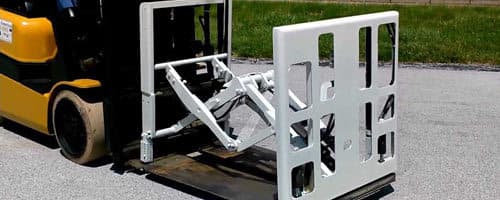 Allows you to ship, receive, and warehouse unit loads on inexpensive slip sheets rather than pallets. Typical loads are seed, electronics, bottled beverages, etc.
Multiple Load Handlers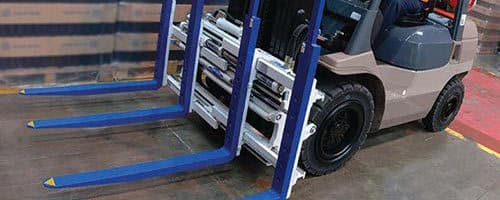 Specialty attachment; allows driver to use the same lift truck to handle either single or double pallet loads.
Barrel Handlers, Carpet Poles, Boom Attachments, and More!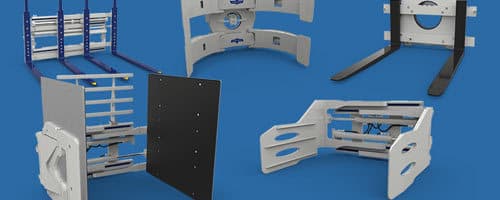 Find forklift attachments from Cascorp, Bolzoni-Auramo, Rightline, and other brands.
Forklift Batteries & Chargers
Just like LPG forklifts needs fuel, electric forklifts need reliable batteries. Not only can Cromer Material Handling provide you with your electric forklift, but we also offer top-of-the-line industrial batteries and chargers to power them. We'll even pick up your old batteries—free!
The Cromer Forklift Battery
Forklift Battery Chargers
Forklift Battery Service & Repair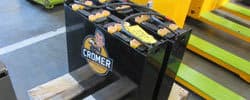 Buying Cromer Batteries saves you money and hassle. This is a tubular industrial battery with an 850 amp-hour capacity. Popular in all 3-wheel electrics. Comes with a 3/2 warranty. We put the new battery in & take the old one away.
Forklift Batteries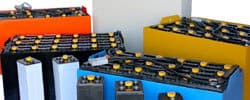 Forklift Batteries come in over 500 sizes and types. Make sure you get the right battery to fit your application. Let Cromer find the right one! Our facilities stock the Hawker PowerLine (rugged long-lasting power), Water Less (same performance, less water), and Energy-Plus (performs in harsh conditions) batteries.
Forklift Battery Chargers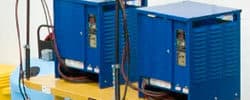 Every industrial battery has the perfect matching charger. Find the safe, standard-compliant high-frequency charger your forklift takes at Cromer.
Forklift Battery Service & Repair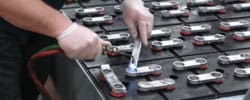 Cromer offers complete battery and charger repair, on-site or in shop.
Battery and charger service at your location
Expert technicians trained in the latest technology

Rental batteries, so your workers can keep going while we service your batteries
Battery Service Extras
Battery Recycling
Call Cromer for a battery pickup at no charge. We'll take care of recycling it safely. (Please note: The BYD electric battery is 100% green. They do not require specialized recycling. You could throw one in a dumpster with zero worries!)
Battery Rentals
Need extra batteries for a seasonal production boost? We rent forklift batteries! If we sell the forklift type (and even if we don't), we keep batteries for rental.
Battery Washing
Batteries covered in acid or corrosion? They need a good washing before someone gets hurt! Cromer service technicians will clean and neutralize forklift batteries on-site. Our cleaning truck keeps all material contained, so your facility stays clean and dry. You get clean forklift batteries, zero risk to your workers, and no EPA liability for contaminated runoff.
Forklift Tires
If it's a forklift and it takes tires, you'll find them at Cromer. We stock and carry over 50 types of tires. Ask us for a free estimate.
How Tires Affect Forklift Safety

ITL SOLID PNEUMATIC TYPE: We offer Recaps, Solid Pneumatic tires, Soft Tuff Solid pneumatics and Resilient.
CUSHION SMOOTH AND LUG TYPE: We stock Smooth ML type, Electric compound tires and non-marking type cushion tires.
SUPERIOR/THOMBERG POLY TYPE: We stock high performance load wheels and poly steer tires for pallet jacks and reach trucks.
Not sure which tires best fit your forklift? Check this guide on Choosing the Right Forklift Tire.
How Tires Affect Forklift Safety

Tires dramatically affect Lift Truck performance:
Different compounds offer different levels of traction.
Fuel consumption goes up fast due to the tires' extra rolling resistance.
Increased shock from worn tires transmits through your forklift, affecting its workings (increasing maintenance costs) and its operator (increasing safety risk).
Different tire widths and tread patterns can provide more stability and increase carrying capacity.
Don't let worn-down forklift tires jeopardize your productivity, or your workers' safety.
Mobile Tire Press

If any forklift's tires show signs of wear, call your local Cromer. We have not one, but THREE mobile tire press trucks.
With an inventory of tires to fit every budget and application, a fast response time, and veteran techs on staff, come to Cromer to replace your forklifts' tires.
Is it time to replace some forklift tires? Call 800-464-3225 and ask for the Cromer Tire Press truck.
Contact a Cromer Parts Specialist
OAKLAND: 510-534-6566
SACRAMENTO: 916-371-2004
MANTECA/STOCKTON: 209-465-8987
FRESNO: 559-268-6621
BAKERSFIELD: 661-393-2460
SANTA MARIA: 805-922-1767
LAS VEGAS: 702-207-4700
Need Forklift Maintenance? Visit our Maintenance & Repair Page
Prevent forklift downtime with Cromer's planned forklift maintenance. One call and you have access to 80+ service technicians trained and ready for every forklift type.
Choose the best maintenance plan for your fleet on our Forklift Maintenance page.

Cromer Adds 100 New Rental Forklifts, Now with Safety & Efficiency Tracking
Your next rental forklift could tell you when it needs maintenance. The Cromer fleet got a major upgrade!
Read the Article
FORKLIFT SAFETY TRAINING
Reserve your operators' next forklift Safety Training at Cromer!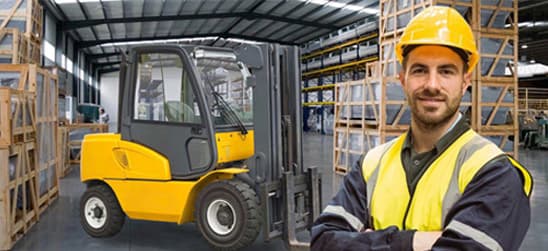 Handling Progress PDF
Cromer's popular Material Handling newspaper is available quarterly with exclusive deals