The Cromer Service Department
40 Active Road Mechanics mobile and ready to help
All 6 branches have assigned service technicians & road mechanics
Guaranteed 4-hour response time to your service call
Service on-site, or at your nearest Cromer facility
Saturday emergency service
Free inspection and estimates
Planned Maintenance agreements
Complete material handling repair, including forklifts, manlifts, balers, compactors, dock equipment
Keep Your Forklifts in Top Operating Condition

Schedule your maintenance and avoid downtime. Call your nearest Cromer office today!

OAKLAND

(510) 534 6566

MANTECA

(209) 465 8987

W. SACRAMENTO

(916) 371 2004

FRESNO

(559) 268 6621

BAKERSFIELD

(661) 393 2460

SANTA MARIA

(805) 922 1767

LAS VEGAS

(702) 207 4700
Planned Forklift Maintenance Services
Get the longest life out of your forklift at the lowest cost. Cromer provides service for companies with a single forklift, or entire forklift fleets that need multi-year service contracts.
Minor Planned Maintenance
Recommended for every 150-200 hours of forklift operation. All forklift types covered and done on-site at your location.
Over 40 tests & checks run on each forklift
Visual Inspections
Mechanical Inspections
Cleaning & Lubrication
Operational Tests
Steam Clean & More!
Major Interval Service
Recommended for every 2,000 hours of forklift operation. Covers all forklift types. 3-day turnaround, rentals available.
Over 100 check point inspection per forklift
Electrical System Diagnostic
Cooling Systems Flush
Mast Chain & Fork Inspection
Ignition System Tune Up & More!
Fleet Maintenance
If you have over 6 forklifts in your fleet, a Fleet Maintenance Contract will provide reliability with lower service costs over time.
Over 40 tests & checks run on each fleet forklift
Fleet Audit for Scheduling
Service Area Organization
Complete Forklift Inspection
Operational Tests
All Forklift Types
The best way to keep your forklifts running smoothly is to schedule Planned Maintenance year-round. Cromer makes it easy—just call us & ask about a Planned Maintenance Agreement. You'll get great rates on maintenance, a plan customized to how many forklifts you operate, and peace of mind that the Cromer service techs are on the job.
Call the Cromer Service Center at 800-464-3225 for reliable maintenance

Cromer Adds 100 New Rental Forklifts, Now with Safety & Efficiency Tracking
Your next rental forklift could tell you when it needs maintenance. The Cromer fleet got a major upgrade!
Read the Article
FORKLIFT SAFETY TRAINING
Reserve your operators' next forklift Safety Training at Cromer!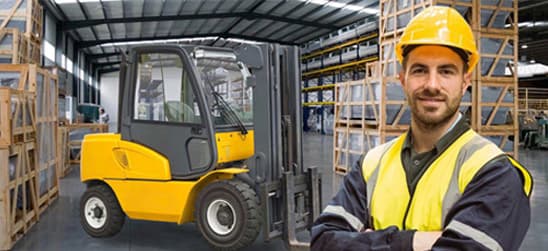 Handling Progress PDF
Cromer's popular Material Handling newspaper is available quarterly with exclusive deals