KEEP WORKERS SAFE — GET REGULAR FORKLIFT TRAINING
Are all your forklift operators up-to-date on their safety training?
"Each year, tens of thousands of injuries related to powered industrial trucks (PIT), or forklifts, occur in US workplaces. Many employees are injured when lift trucks are inadvertently driven off loading docks, lifts fall between docks and an unsecured trailer, they are struck by a lift truck, or when they fall while on elevated pallets and tines."
"Most incidents also involve property damage, including damage to overhead sprinklers, racking, pipes, walls, and machinery. Unfortunately, most employee injuries and property damage can be attributed to lack of safe operating procedures, lack of safety-rule enforcement, and insufficient or inadequate training."
The above quote comes directly from The U.S. Department of Labor's OSHA website. OSHA standards hold employers responsible for providing their forklift operators with proper safety training. OSHA can impose fines of $7,000 to $70,000 per safety violation if training lapses.
Avoid fines—and more importantly, keep your workers safe—with Safety Training from Cromer.
Forklift Safety Training
Cromer Forklift Safety Training Course is for experienced operators. It includes classroom instruction for sit-down forklifts, followed by a written test-driving evaluation.
Certificates of completion and wallet cards will be sent to your company, allowing you to certify your operators in compliance with CAL-OSHA regulations. Class runs from 8:30 AM to 12:30 PM.
Cromer 2022 Safety Training Class Schedule (Oakland)
Cromer 2022 Safety Training Class Schedule (Central California)

Safety training courses available in-person (limited numbers) or virtually, over a private Zoom meeting.
**Please contact our Oakland office for training availability.
If you're not already on our mailing list, please subscribe here for further announcements.
8:30 AM to 12:30 PM, Fridays

No student minimum.

To Register: Contact Irene Torrez at 599-240-8102.
Cromer 2022 Safety Training Class Schedule (Central California)

FRESNO—First Wednesday of each month
Fresno also has Saturday classes on:
SANTA MARIA—Second Wednesday of each month

BAKERSFIELD—Third Wednesday of each month
No student minimum. All classes start at 8:30am.

To Register: Contact Irene Torrez, 599-240-8102.
Please specify to which location you'll send operators.
Tambien ofrecemos cursos en espanol.
ON-SITE TRAINING
FOR ON-SITE TRAINING OF 5 OR MORE, PLEASE CONTACT: IRENE TORREZ, 599-240-8102

New Operator Training
Bringing on new employees who don't have forklift operating experience? Train them at Cromer!
Cromer offers a "New Operator" training course in 2 of our locations. This class is designed for those with less than 6 months experience to no experience or knowledge of safe operation who want to learn how to drive a lift truck. Students receive hands-on training on how to operate a sit-down forklift safely and efficiently under supervision in an area that does not endanger the trainee or others.
Classroom instruction and a written test included. Certificate of completion and a "restricted" wallet card will be issued to students who demonstrate sufficient operating ability.
New Operator Training Locations

Classes occur at our:
Fresno location, on the third Tuesday and Wednesday of each month.

Price: $275 per person. Course is available in English & Spanish.
To Register: Contact Irene Torrez at 599-240-8102.


New Operator Takeaways

Upon completion, each new operator gets a certificate for your safety records.
While there is no specific "Forklift Certification" available to California forklift drivers, the Cromer New Operator course meets OSHA requirements for safety training.
You can consider your drivers "certified" to operate forklifts safely after taking this course, as hundreds throughout California do every year.

TRAIN THE TRAINER / Forklift Instructor Certification
Training for Forklift Instructors in Northern/Central California
Bring your company into compliance with this "Train the Trainer" seminar. Safety professionals, supervisors and anyone who has the responsibility to train operators will benefit from this program. CAL-OSHA requires trainers to "have the knowledge, training and experience to train operators and evaluate their competence."
Attendees will participate in discussions covering the 24 required content subjects of the CAL-OSHA standard. Participants will learn how to evaluate performance in the workplace and how to conduct the required formal and refresher and receive the tools, knowledge, and hands-on experience necessary to implement a Forklift Operator Training program at your facility.
Cromer Train the Trainer Class Schedule & Registration (Northern California Businesses)
Cromer Train the Trainer Class Schedule & Registration (Central California Businesses)

2021 Forklift Instructor Certification Class Schedule (Northern California)
8:00 AM to 5:00 PM, Lunch is provided
CLASSES PAUSED AT THIS TIME. We will update this page and notify customers when Train the Trainer classes resume.
To register for a class, please fill out and fax Page 2 of this Train the Trainer Course Registration PDF to 925-831-9747.
Cromer Train the Trainer Class Schedule & Registration (Central California Businesses)

2021 Forklift Instructor Certification Class Schedule (Central California)
8:00 AM to 5:00 PM
FRESNO LOCATION:

September 16
October 21
November 18
December 16
BAKERSFIELD LOCATION:

September 14
October 19
November 16
December 14
SANTA MARIA LOCATION:

September 9
October 14
November 11
December 9
To register for a class, please contact Irene Torrez at 599-240-8102.
Train the Trainer Seminar
Training covers all ITA classes 1-7, electric and internal combustion, including rough terrain, warehouse style counterbalanced, narrow aisle and powered walk behinds. You'll also receive 3 years' consultation support (by phone or email).
Seminar Topics:
Statistical data on forklift accidents.
Federal OSHA 29 CFR Ch. XVII 1910.178 powered industrial truck regulations.
CAL/OSHA GISO 3657-3668 powered industrial truck requirements.
Complete coverage of operator training class, including Loading Dock and Warehouse Safety, Forklift Types and their Components, Pre-Shift Inspections, Design Principles, Operating Fundamentals, Recharging/Refueling Procedures, and more.
Forklift accident summaries.
Classroom instructor techniques.
Actual forklift operation and hands-on evaluation learning exercises.
Final test, certificates awarded.
Materials include a Forklift Instructor Training and Resource Guide, Copies of The Professional Operator Written Response Workbook, an Instructor's Presentation & Training Techniques Book, reproducible Pre-Shift Inspection and Operator Evaluation Forms, and a Certificate of Completion.

Download these flyers to remind you about regular training:
Cromer Forklift Operator Safety Training Flyer (PDF)
Cromer Forklift Train the Trainer Flyer (PDF)
Safety training makes the difference between repeated accidents and smooth workflow. Productive workers and injured workers. Everyone on the Cromer team, especially the Forklift Boss, want you to have safe & happy workers every day of the year.
Book your Forklift Safety Training Safety today.
How to Winterize Your Warehouse Docks Before the Cold Weather Hits
Now's the time to winterize your docks & doors, before the holiday rush hits and the FDA stops by.
Read the Article
FORKLIFT SAFETY TRAINING
Reserve your operators' next forklift Safety Training at Cromer!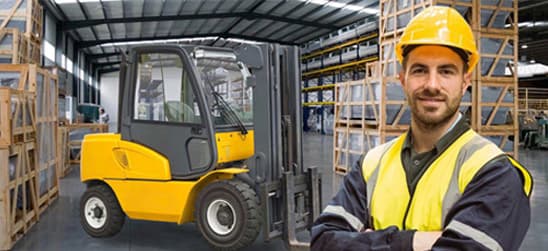 Handling Progress PDF
Cromer's popular Material Handling newspaper is available quarterly with exclusive deals