MATERIAL HANDLING EQUIPMENT FOR WAREHOUSE PRODUCTIVITY
You'll always find the best in material handling equipment at your local Cromer for moving product around, moving people around, and supporting warehouse operations every day & night. From pallet jacks to manlifts, Cromer has you covered.
Personnel Carriers
Need to move more than just pallets through your warehouse or yard? Cromer Material Handling carries Motrec brand Personnel and Burden Carriers.
Motrec carriers have top-of-the-line features, so you can transport personnel, guests, and cargo efficiently and safely.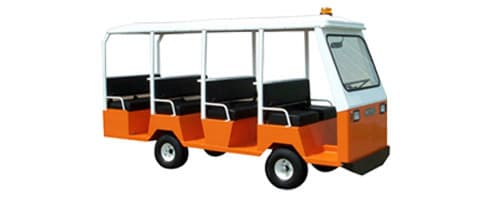 The Motrec E-480 can carry eight people on four 44" wide seat rows. Capacity reaches 16 people with a tram trailer.
Motrec E-12 Carrier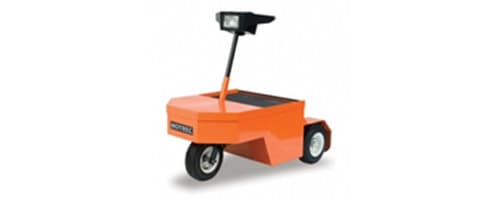 The Motrec E-12's compact design allows it to fit in tight corners all around your busy warehouse. It features durable steel construction and a loading platform for a range of applications. Travels at 7mph.
Burden Carriers
Cromer specializes in Motrec's 2- and 4-passenger flat-bed electric burden carriers.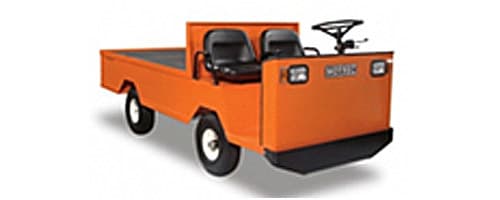 This is the E500, a staple carrier for quick deliveries. Drives like a car, carries like a truck, all electric.
Motrec E-266 Carrier
The E-266 features dual front tires and a 60 inch long deck to ensure the stability required to handle your loads safely. A 36-volt battery provides 50% more running time to last a full shift, and prevent battery damage caused by running batteries too low.
Pallet Jacks
Sometimes simple is all you need, and our manual pallet jacks simply get the job done. Also known as Pallet Trucks and Walkie Jacks.
Linde Electric Pallet Jacks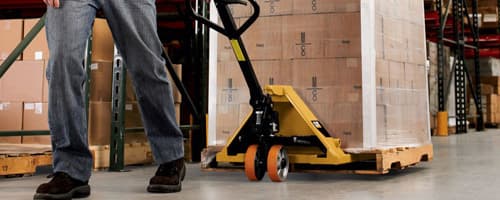 These CAT pallet jacks are hard to keep in stock—everyone wants them! With a load capacity of 5,500 lbs, it serves everywhere from the store aisles to the warehouse dock. Large polyurethane wheels give them long life and improved stability. The pallet jack rolls quietly and doesn't scratch up floors.
Linde Electric Pallet Jacks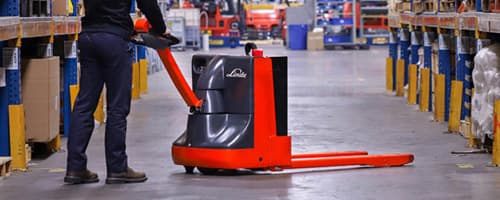 A rugged all-day worker, with load capacities up to 4,400lbs. These jacks use fiberglass-reinforced materials and a low chassis to guard against accidents or breakdowns. This also covers the wheels, so they don't catch debris...or a worker's shoe. Safety first!
Doosan Hand Pallet Jacks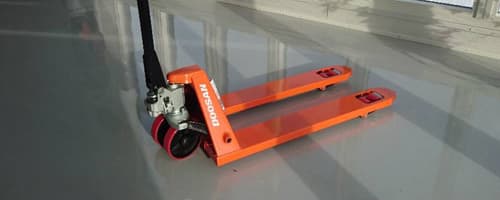 Ideal for most material handling needs. Load capacity of 5,500lbs. Totally enclosed bearings guard against failure from dust and prolongs service life. Pivot mounted large polyurethane wheels keep it stable on uneven surfaces. 202° steer handle arc enables easy maneuvering of pallet truck in confined areas.
Lift Tables
Southworth Lift Tables
Think of how many times a worker has to bend down, turn, lift, turn, set a box down, and repeat. One ergonomic lift table not only cuts down on all that motion, it can speed up pallet loading and unloading time by 40%.
By lifting boxes or pallets up to a worker's waist level, lift tables eliminate the need to bend over repeatedly while stacking product. Lifting a group of boxes up to waist-height may not seem like much, but it can save a worker's back.
Cromer stocks a full line of Southworth lift tables—the most durable & reliable brand in the world.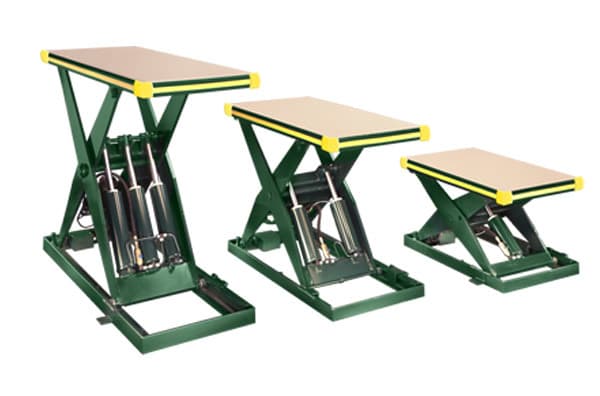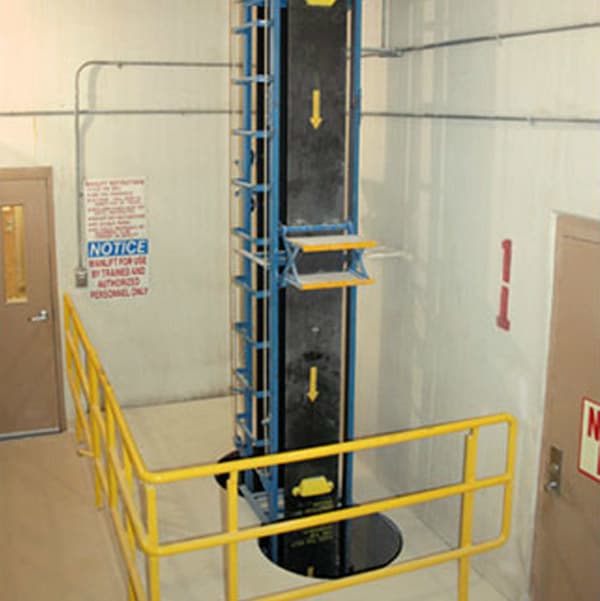 Belt Manlifts
Manlifts – A Reliable Alternative to Elevators
Belt Manlifts Work For: Parking Garages, Flour/Sugar/Grain Mills, and any multi-level building where you need a consistent flow of employees or goods up & down. A manlift's endlessly-moving belt provides reliable vertical transportation that saves time and energy.
The Only West Coast Dealership for Servicing Manlifts
Cromer is the only authorized Belt Manlift repair facility in California. Our service technicians have the training and the experience to work on Humphrey Manlifts from LA up to Oregon.
Recent Manlift Installs/Service Contracts
Four Seasons Hotel, San Francisco
Sunwest Milling in Biggs, CA
Millennium Towers, San Francisco
Round out your warehouse's efficiency and worker safety with our equipment. Together we'll keep your workers safe and your warehouses performing to the max. Talk with one of our warehousing experts today.

Call 800-464-3225 and ask for Warehouse Systems.