Get the Right Forklift for the Right Job.
Here's a list of the major forklift types, from small electric trucks to monster diesel forklifts, you'll find at your local Cromer. The most complete lineup of New and Used Forklifts in California & Nevada.

Electric - Class I
Used in Europe for 20+ years. These 80-volt electrics last 2 shifts and are more productive than IC. Cromer is the only California forklift dealer to offer true 80-volt forklifts that run circles around competitors. Available in cushion and pneumatic tire options.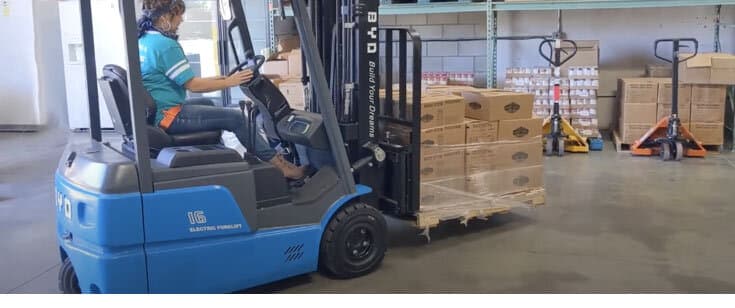 A 100% green electric lift truck! Features the BYD Battery, the #1 long-lasting battery in the world. These trucks have industry-changing batteries powering them. It's better technology for a better forklift.

IC Cushion Tire - Class IV
Perfect for your warehouse needs: Cromer Material Handling rents, sells and leases hard-cushion tire forklifts from 3,000lbs to 15,500lbs capacity. Durable, compact and Tier III emissions compliant!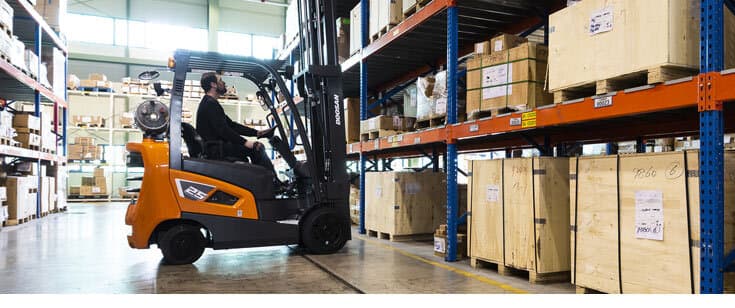 Heart-of-the-line Forklifts, with a durable & robust design that still emphasizes operator comfort. Capacities range from 3,000lbs to 7,000lbs. Doosans make even the most demanding material handling applications easier.

IC Pneumatic Tire - Class V
When your terrain is less forgiving, Cromer Material Handling offers air and solid (no-puncture) pneumatic-tire forklifts, from 4,000lbs to 80,000lbs capacity (for the REALLY big jobs).
Durable, dependable and operator-friendly pneumatic-tire lift trucks. Ranging in capacity from 3,000lbs to 55,000lbs, these trucks balance enhanced technology, comfort refinements, performance efficiencies & serviceability.

Rough Terrain - Class VII
For your toughest terrains, Cromer offers top-line RT lift trucks. 4-wheel-drive; gas- or diesel-powered. The lifts you need for the dirty jobs.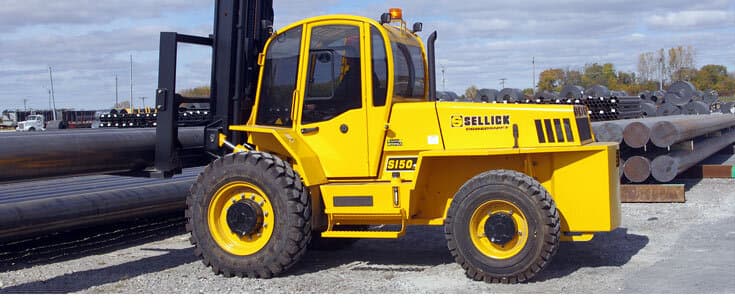 Sellick Rough Terrain forklifts bring innovative engineering, design excellence, and manufacturing quality to the table. Built for a durable, productive day, the RT comes in both 2WD and 4WD with lifting capacities of 5,000-25,000lbs.

Piggyback - Class VII
High-reliability forklifts you can bring where you need them. Piggyback forklifts use a space-saving design to stay light, durable, and efficient.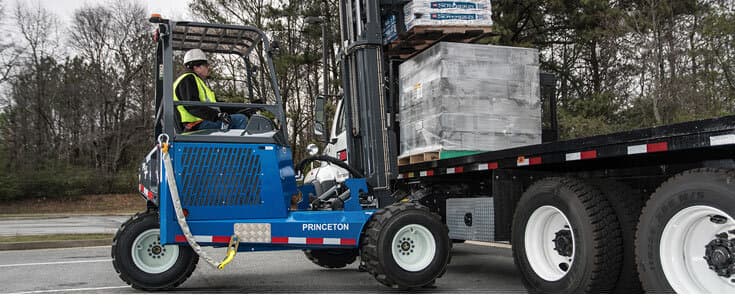 Ideal for hauling building materials. With load capacities from 3,600 to 8,000 pounds, they can easily haul lumber, brick, pavers, and more. PiggyBacks have unique options, including "Double Reach" masts for one-sided vehicle unloading and "4-way" movement that can transport long loads through narrow job sites.

Electric Narrow Aisle - Class II
Choose from narrow-aisle Turret trucks, Reach trucks, and Order pickers. All electric, all fully capable of maximum output in a space-efficient warehouse!
Reach Trucks that work as hard as you do. Offered in 24-, 36-, or 48-volt with long run times, from reliable brands like Doosan.

Electric Pallet Jacks - Class III
For quick pallet transport, save time with an electric pallet jack. Cromer stocks electric walkie jacks, walk-ride, center-ride, and walkie-stackers.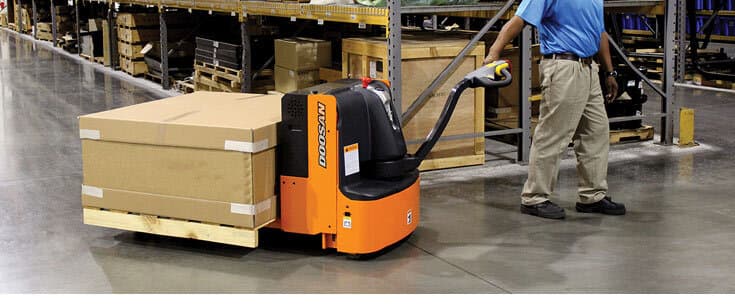 A 100% green electric! These pallet jacks use long-lasting batteries just like forklifts, to give you all the carrying power you need. It's better technology for better transport.

Multi-Directional Specialty Forklifts
When you need your Forklift to handle extra-long loads, or bend in multiple directions, Cromer Material Handling has the specialty forklifts to suit your needs.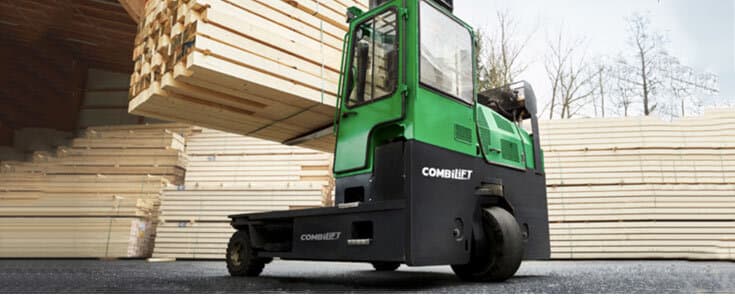 The C-Series is Combilift's flagship multi-directional lift. Capacities range from 4,400lbs up to 30,000lbs, and power is available in gas, LP, or electric*. Indoor/Outdoor. These trucks will work in aisles as narrow as 80 inches!
Electric VS. LPG Forklifts
"Don't electric forklifts cost more up front?" Not anymore. The up-front cost has become much more reasonable.
You're also saving on total ROI. Over their lifetime, electric forklifts save an average of $15,000 a year over diesel trucks, and over $50,000 over propane.
Get a Quote on Your Next Forklift
Reserve Your Forklifts for Summer Harvest Before They're Gone
Harvest season will be here before we know it. Reserve your equipment rentals before someone else does!
Read the Article
FORKLIFT SAFETY TRAINING
Reserve your operators' next forklift Safety Training at Cromer!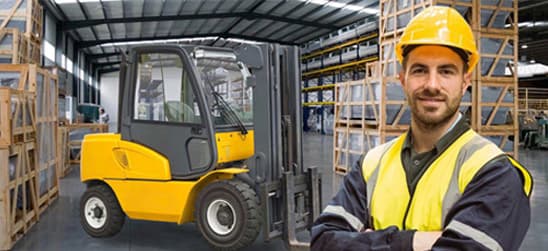 Handling Progress PDF
Cromer's popular Material Handling newspaper is available quarterly with exclusive deals