Jun 23, 2023
Cromer Adds 100 New Rental Forklifts, Now with Safety & Efficiency Tracking
Your next rental forklift can tell you when it needs maintenance.
If you rent from Cromer, that is.
Over the past two years, we expanded the Cromer rental from 250 assets to over 500. That's a lot of equipment to make sure stays in good working order.
Our solution? Installing Samsara telematics devices in 100 of the newest rental forklifts. Using GPS, these devices help us track & monitor each of the rental assets, making it much easier to address maintenance and keep customers rolling.

What advantages does Samsara give us (and you, our customer)? That's what we're talking about in this newsletter.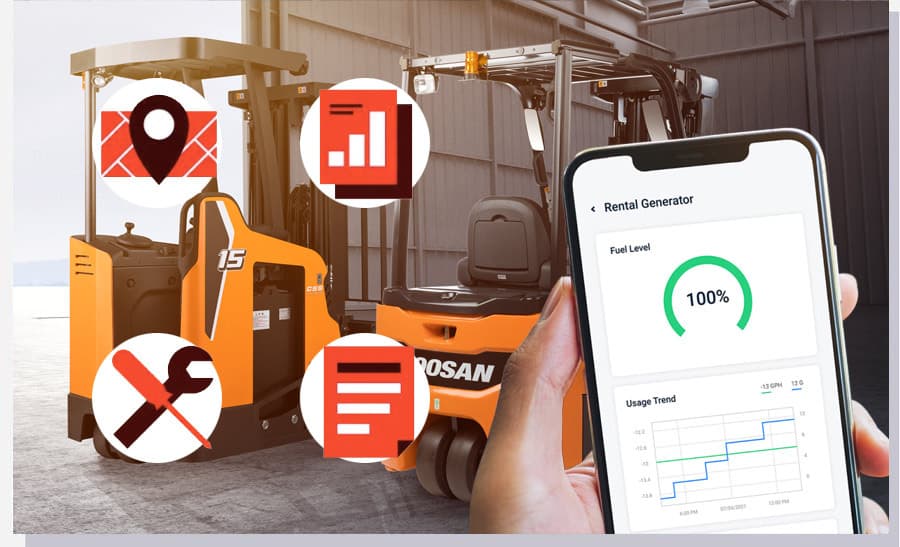 Telematics – Real-Time Monitoring for Material Handling Equipment
The Samsara system collects data from each forklift it runs on. All day, every day. Data about:
The forklift's engine
Fleet tracking through GPS

Movement

Time intervals between stops

And much more
(Note: The Samsara devices do NOT collect any proprietary data. No privacy risk here.)
It then collates all this data within Samsara's platform, and analyzes it for all the insight it can get. Finally, it generates reports to share those insights.
What do the reports tell us? Exactly what's happening with every rental forklift...how well it's performing, and where we can improve your team's workflow.
Maintenance Scheduling. Which trucks are next in line for maintenance? Is one forklift burning more fuel than it should?


Productivity Improvements. Could this shift team use a lower-cost truck without any performance loss?


Asset Tracking. Has a job site experienced equipment theft in the past?


Safety Checks. Does a customer have operators in need of refresher safety training? Should we replace the brakes on a certain forklift early?


Real-Time Visibility. Do we have too much equipment in one location, and not enough in another?
The Cromer rental team receives these reports for maintenance purposes. Using them we can keep maintenance up to date, make sure you have the best rental inventory available, and preserve your operators' safety.
Want to see a tracking report for yourself? Just ask your Cromer rep!
The Samsara system even generates alerts in real-time. If a forklift dies, or someone's about to collide with a rack, the system sends alerts. It knows that's an emergency, and provides the information so you can act fast.
An Added Bonus for Rental Customers, At No Charge to You
Does this mean we're raising our rental prices? Nope! They're staying the same.
The Samsara addition helps us track maintenance schedules and keep operating costs low.
Most importantly though, it helps us serve you more efficiently.
To-the-Day Information to Improve Operations for Everyone
This is a rental upgrade we've wanted to make for a while. Samsara has a reputation for boosting efficiency in equipment fleets, as well as lowering fuel/operating costs.
The future is here, and it will help all of us stay up & running!
If you're curious about Samsara's platform, visit www.samsara.com. Or ask one of our sales team members to see a report.
Until next month!
Doug Perez, General Manager
Cromer Inc.
---
DEAL OF THE MONTH
3 HOT DEALS ON ELECTRICS
For our June Deals of the Month, we have three Hot Forklift Deals to share!

36-volt, 42/48" forks, 187" triple stage, side shifter
Battery and charger included.

36-volt, 42/48" forks, 189" triple stage, side shifter, 4th valve
Battery and charger included.

80-volt, 42/48" forks, 189" triple stage, side shifter, 4th valve
Battery and charger included.
Deals this hot can only run for a limited time...so don't wait!
To grab one of these hot deals, call Cromer at 800.464.3225 and ask for the June Deal of the Month.