Feb 3, 2020
Cromer Expands into Nevada—We've Acquired Sierra Industrial in Las Vegas
We start 2020 with a big announcement: On January 2, we acquired Sierra Industrial Equipment in Las Vegas, Nevada.
This not only increases our locations to 7...it also expands the Cromer service area beyond California. Las Vegas is growing like crazy, making it an ideal place for Cromer to operate.
I've known the head of Sierra, Rod Womack, for years now. We'd see each other at Doosan dealer meetings. I respected Rod's work at building Sierra up from two service technicians in one garage, to over $2 million in sales a year.
Last year they reached a point where selling to another company made sense:
They had good numbers on sales growth & clientele.
Rod had begun thinking about retirement.
At the same time, we were looking to acquire. Perfect match.
We took our time with the acquisition process. Sierra's operations parallel Cromer to a high degree. They even adapted some of their procedures to align with Cromer's while we worked the deal out. (I really appreciated that.)
I asked Rod his thoughts on the acquisition, and why he agreed to work with us. Here's what he had to say:
"Marshall was extremely easy to work with, extremely fair. He and I have a mutual respect for one another. I admire his business prowess, his honesty. It's been a good project from the get-go.
"I've met most of the team now. It's fascinating...Bakersfield has agricultural, Las Vegas has entertainment, Oakland has shipping. Each division has their own unique market. We're proud to be part of the group."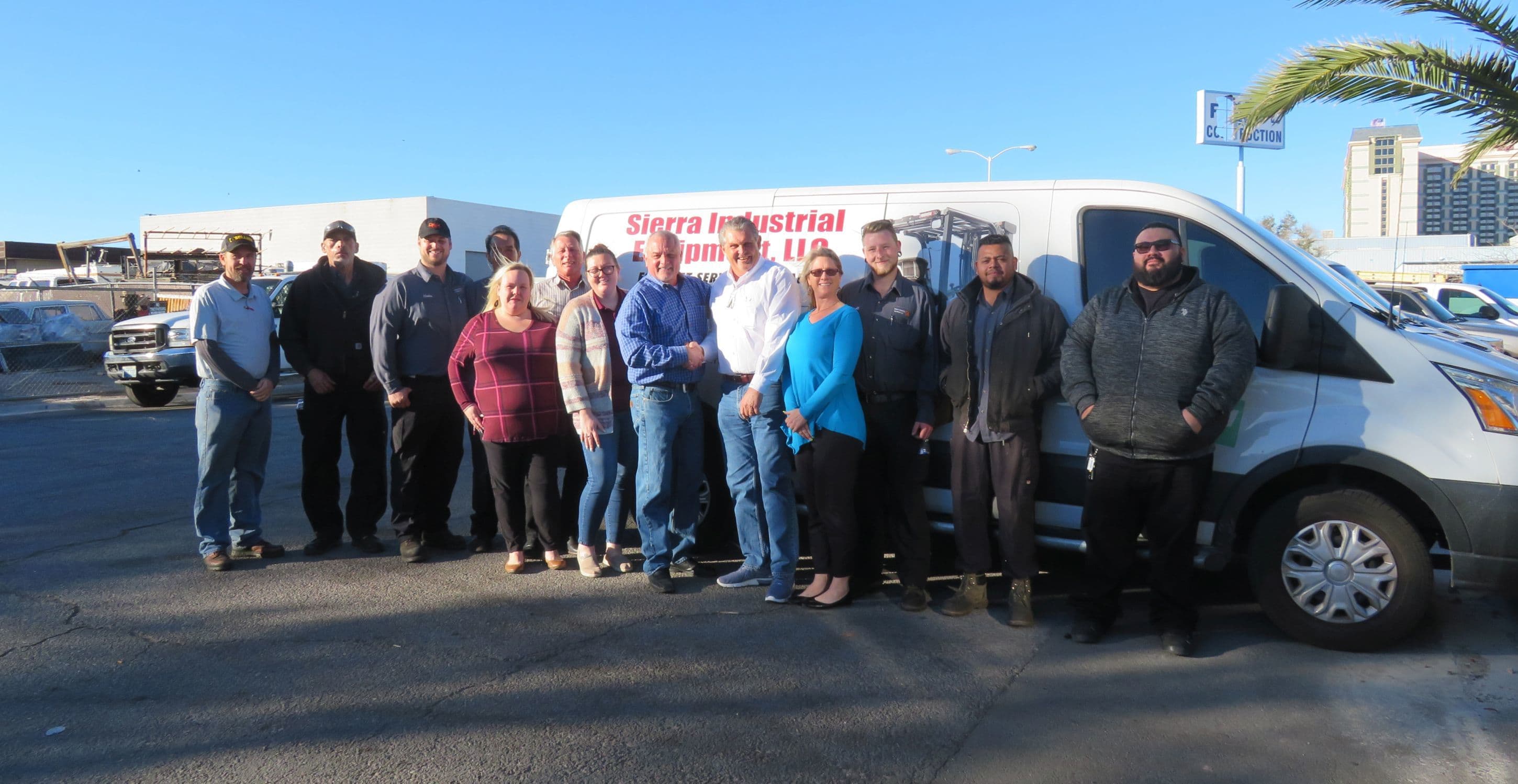 What a Las Vegas Branch Means for Cromer Customers
Cromer can supply your Nevada locations! We now have a stable, well-stocked branch to work with in the Las Vegas region.
One thing Sierra Industrial did not have was a full Dock & Door equipment line. That's the first change—expanding the branch to provide all Warehouse Systems products, and service techs. It's already underway, so if you're looking at warehousing in Las Vegas, Cromer is ready & able to help you build out.
We also have 12 more team members to help you with material handling projects, over a multi-state expanse. I kept the whole Sierra team right where they are, doing what they're good at. Even Rod agreed to stay on for a while, as General Manager for Las Vegas.
What the Sierra Acquisition Means for Cromer
This acquisition brings a lot of advantages to the Cromer team.
A new location in South Nevada.
Access to the growing Nevada market for forklift maintenance, as well as Dock & Door.
Rental fleet growth! Sierra has a 70-forklift rental fleet.
New team members, each with years of expertise & the same emphasis on service as the Cromer team.
Please join me in welcoming Sierra Industrial as the newest Cromer branch. It's a great start to the New Year.
Until next month!
Marshall Cromer, The Forklift Boss
Cromer Material Handling
---