May 27, 2020
How to Make Customers Feel Comfortable when Returning to Your Facility
It's important for customers to feel comfortable in your business. When they're comfortable, they make confident decisions about their purchases.
Today I want to talk about how we, as business owners & managers, can make our customers feel comfortable about visiting our facilities again. Whether it's a warehouse, a storefront, or a shipyard, comfort being there has never been more important. Nobody buys when they're uneasy!
This issue will share methods of making your facilities as customer-welcoming as possible. These also keep your workers safe, without getting in their way too much.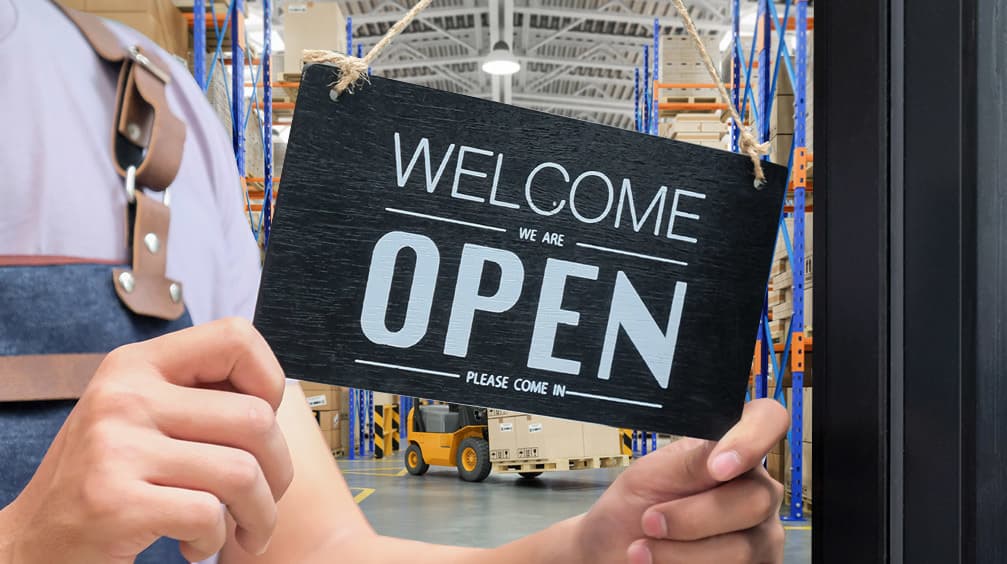 10 Preparations to Make Customers Comfortable
Keep the workplace clean. Obvious, but make sure it's visible. If you're not sure how thorough to be, use the industry guidance references for cleaning. Here are guidelines from the CDC, the State of California, and the State of Nevada (in PDF).

I looked through the guidelines for warehousing, logistics, food storage, and shipping. They all boil down to essentially the same things:

Check your employees' temperature with an infrared thermometer when they arrive
Wear face coverings and necessary protective equipment
Clean/disinfect common surfaces regularly

Don't forget hard hats and forklifts!

Maintain physical distancing wherever possible
Employees feeling ill should stay at home (have them work remotely, if possible)
Wash your hands frequently


Make sure each & every employee knows you want them to stay safe and productive. Employee safety defines everything at Cromer, and I'm sure that holds true for you, too.

Maintain healthy airflow. Time to clean your vents! Service your HVAC system, if needed. Not only is it great for everyone's health, but nothing feels better than fresh air. That goes for workers and customers alike.

Post photos/videos of your cleaning efforts, in your facility and on your website/social media. It connects customers' safety to the real people on your team. They can see you're looking out for them.

Make masks or face shields available to customers when visiting. Single-use if available.

Have gloves on hand for customers to use if they like. Don't require it though.

Assign forklift operators to one forklift only per shift. Put their name on the forklift. Good visual; customers know you're protecting employees, too. Disinfect forklifts between shifts.

Post signs for employees and visitors at your entry points. Make sure everyone knows the expectations around PPE and office cleaning.

Clean & polish all shop floors, hallways, and reception area floors. It makes a strong impression. I recommend the Phoenix walk-behind floor scrubbers from PowerBoss. Easy to operate, and you can charge them anywhere.





A PowerBoss Phoenix 20 Floor Scrubber, available at your local Cromer.



Finally, the most important step: Invite your customers back, personally. Call each of your best customers yourself and invite them to come by. Even if they're not buying right now, it's the perfect reason to reconnect and remind them you're there to help.

(You can also answer their questions on safety, given everything we've discussed here.)

A Little Comfort Goes a Long Way for Reopening
It's important we all get back to work as soon as possible. At the same time, if we do so safely, we win all around. Customers feel comfortable visiting; employees know they're free to do their jobs.
We're already putting these procedures in place at your local Cromer. I hope they will help you bring your customers back, too.
How do you plan for welcoming your customers back? Please share your thoughts at info@cromer.com.
Until next month!
Marshall Cromer, The Forklift Boss
Cromer Material Handling
---