Apr 24, 2020
How to Save Money on Forklift Maintenance—Without Sacrificing Safety
Forklifts need maintenance. Unavoidable. If you're looking at your budgets though, you may feel tempted to cut back on maintenance for cost savings.
THE BAD NEWS: Dropping forklift maintenance will almost certainly result in expensive breakdowns and serious accidents.
THE GOOD NEWS: You may be able to work out some maintenance savings and still keep workers safe.
The trick is planning ahead. Let's look at this in three stages: Daily Tasks, Regular Maintenance, and Long-Term Moves.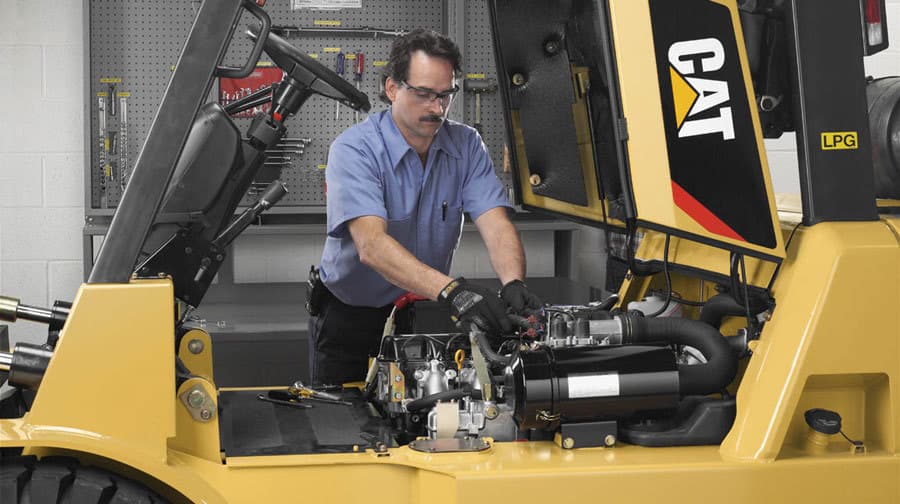 The Daily Inspection - The #1 Money-Saver
The simplest and quickest maintenance is a simple, daily forklift check. Why? You catch small problems before they cause an issue. Saving thousands in repairs on each & every forklift.
Have your drivers perform the daily inspection at the start of their shift. It take a few minutes at most.
Things I do in my inspections:
Signs of disturbance in engine - loose hoses, open panels, leaks, etc.
Tap the chains. They should be under tension and properly greased.
Tug on seat belts.
Check the back-up alarm. No wires loose? No cracks? It's in proper position?
Poke the tires (don't kick them).
For more on daily checks, see our post on Forklift Safety Checkpoints.
With inspections like these, you can reduce the level of regular maintenance needed. Make your service technicians aware of your inspections, so they know what you're checking. All they have to do is confirm good operation based on your inspections – a timesaver in itself.
Next up is forklift maintenance. A middle-term strategy that, like maintenance on a car, prevents a big expense from popping up.
Regular Forklift Maintenance – Low-Cost Service Now, Avoiding High-Cost Repairs Later
We recommend you set up a planned maintenance agreement to occur once a quarter.
Why? This takes it off your shoulders and puts it on the calendar. It's just another item to check off.
At the same time, it saves on budget because the planned maintenance prevents serious breakdowns needing expensive repairs/replacements.
Contract with a factory-certified technician to handle the maintenance. They'll take care of all recommended service:
1000-, 2000-, 5000-hour services
Coolant flush/replacement
Transmission inspections & lubrication
Electrical system diagnostics
Tune ups
At the same time, the technician can spot areas where a minor repair now will avoid a major repair later. Examples include:
Brake jobs – prevents forklift accidents
LPG system issues – prevents operational failure
Fault codes – prevents operational failure
Blowing out the radiator/radiator repairs – prevents overheating
Hydraulic/oil leaks – prevents lockups
Tire wear – prevents forklift accidents
So far, we've balanced short-term and middle-term maintenance. What about longer-term?
Longer-Term Maintenance Moves to Save Money
Yes, you can make moves that will save money long-term. The same moves can save you money in the short-term too.
Standardize your fleet. One brand, one maintenance schedule. This takes time, but it gives you two major cost savings: It reduces parts costs and lost work hours from maintenance service.


Replace old forklifts with electrics over time. Electrics bring you significant cost savings on fuel & maintenance over the forklift's lifecycle. See our post on maintenance for electrics for the breakdown.


Keep electric batteries watered. Once a week, check the water level in forklift batteries. If the water's low, refill it. Less than 5 minutes a week, and it can make the difference between expensive battery replacements & another year of smooth battery operation.

Keep everyone up on safety training. Training avoids accidents, removing the biggest unexpected/unwanted cost from your budgets.
Maintain Your Forklifts, Avoid Expensive Repairs, Save on Budgets
It's important to note that it's not safe OR productive to do all forklift maintenance yourself. Regular maintenance by trained forklift technicians takes care of the 'big' items efficiently (and cost-effectively).
When it's time for cost-saving forklift maintenance, give your local Cromer a call.
Until next month!
Marshall Cromer, The Forklift Boss
Cromer Material Handling
---