Feb 24, 2023
Rack Repair Done Right – How to Preserve Rack Integrity in Today's Busy Warehouses
The moment anyone damages one of your racks, you have a safety crisis. Can you repair it before it collapses?
Depending on the severity, you may have a while...or you may have minutes.
Clearing off damaged rack is something most of us have done at some point. Repairing it, however, isn't as common.
Let's talk about rack repair in this newsletter. Knowing what goes into repairing damaged rack reinforces the importance of rack integrity.
Since rack integrity protects people, it's a big safety concern for Cromer's Warehouse Systems team.
3 Ways to Preserve Rack Integrity
Keeping rack safe & undamaged doesn't take much effort. Most current safety practices cover rack as well.
Use safety straps & mesh panels to prevent pallets slipping.
Keep operators up-to-date on their forklift training.

What's the most common cause of rack damage? Equipment collisions with columns. The rack column doesn't go anywhere, so someone drove equipment into it.
Accidents happen, of course, but the better trained your operators, the less likely accidents become.

To spot damage or potential hazards, conduct regular inspections on all racks.
7 Things to Check During Rack Inspections
Now and then it's good to review best practices. Are your rack inspections covering all 7 of these items?
Pallets not damaged
Rack not overloaded
Rack does not move/lean
No bowing visible in beams
Floor anchors in place & secured
No scrapes or dents in rack struts at first and second level
No rust or corrosion – cracked paint often gives this away
If you do see a problem, it could indicate rack damage already there, or the future potential for it.
You've Found Rack Damage. Now What?
If the rack is severely damaged – as in, it's creaking and moving – evacuate the area at once.
If the rack remains upright, but now shows signs of instability, cease its use until a repair can take place.
Remove all pallets from the rack (if possible).
Divert normal product flow away from the damaged rack.
Set up a temporary storage location for loads.
Make sure the entire team knows about the diverted flow!
Take photos of the damage.
Call your local Warehouse Systems service technician. We'll come out, inspect the damage, ascertain the best course of action from a safety standpoint, and start a repair.
Rack Repair – How it's Done Right
The Warehouse Systems team has repaired hundreds of racks for customer facilities up and down California.
When damage requires a repair, these are the basic steps they follow:
Treat the entire structure as unstable during repair.
Clear any debris that could come loose during repair.
Be mindful of time, but equally mindful of repair quality. It has to hold.
If replacement's needed, always replace with identical parts from the original manufacturer.
Here's an example of a solid rack repair.
An operator at a food distribution center hit a narrow-aisle rack's front upright with a forklift. It dented the upright inward.




Management called Warehouse Systems for a repair. Upon inspecting it, we determined three things:

The upright showed a serious dent, but was still stable enough for continued use.
Two of the floor bolts had been damaged as well.
Replacing the upright would keep the rack out of action too long. The replacement process could even disrupt an already-overtaxed workflow.

The best solution was to straighten the upright and add support.
We used a rack repair kit for the support. Repair kits use a thicker metal, making the upright stronger than it was originally.
We also replaced the damaged bolts at the base, removing all potential for future stability issues.
You can see the results here.





A follow-up inspection showed that the rack had regained full stability.
When You Spot Rack Damage, Make Sure the Repair's Done Right.
Rack integrity is about protecting people first, and product second. It's one of the most important tasks to the Warehouse Systems team, which is why we covered it here today.
Following rack repair, we usually make two recommendations:
One, do a full inspection of the remaining rack. That way we can spot & repair any other damage that isn't a serious issue…yet.
Two, do a round of safety training for operators. That way you address the damage with the team, and reduce the chances of it happening again.
Until next month!
-The Cromer Team
---
Deal of the Month
2019 DOOSAN B18T-7 FORKLIFT – $21,900
For our February Deal of the Month, the Cromer Team has a near-new mid-capacity Doosan forklift.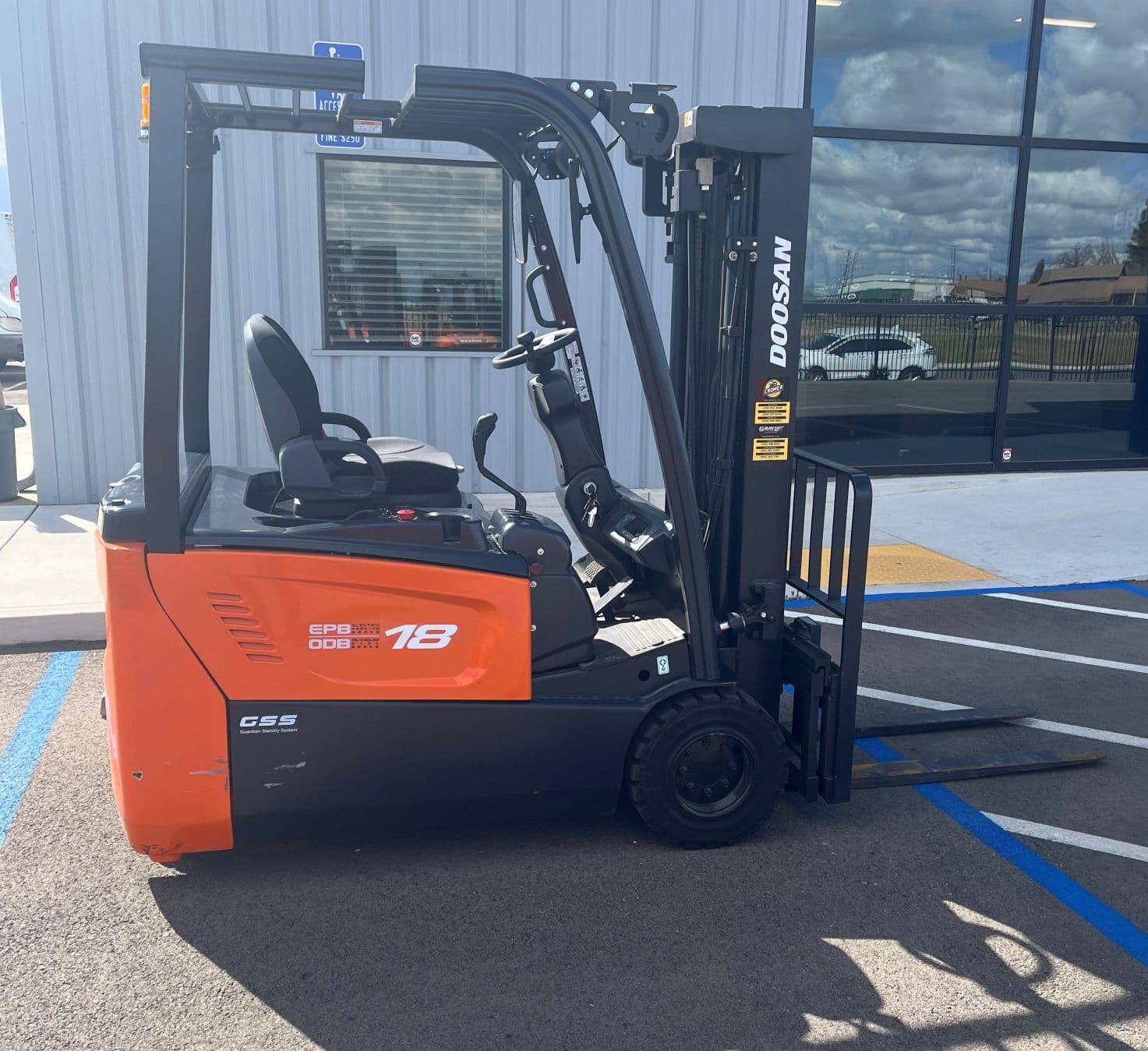 This is a 2019 B18T-7 electric, with a top capacity of 3,500 lbs. It's a three-wheel sit-down truck, with a three-stage mast, making it great for long-shift warehouse operations. Even though it's a 2019 model, it has only 78 hours on it. The Cromer team has serviced the forklift and certified it ready to go today.
Pick up this electric Doosan for only: $21,900.
To buy this forklift, call Cromer at 800.464.3225 and ask for the February Deal of the Month.