May 25, 2022
Replace that Old LPG Forklift with a Used Electric – and Get Better Performance!
The forklift inventory shortage isn't going to end anytime soon. Right now, LPG forklifts have huge backlogs. Some brands are many months out on fulfilling orders; a few have their orders booked out years.
Those of us with aging LPG trucks, wanting to replace them with newer models? It's not going to happen any time soon.
But you have an alternative. One that's just as reliable as a new LPG truck, sometimes with better performance…and available today.
Let's talk about used electric forklifts.
Used Electrics for Sale at Cromer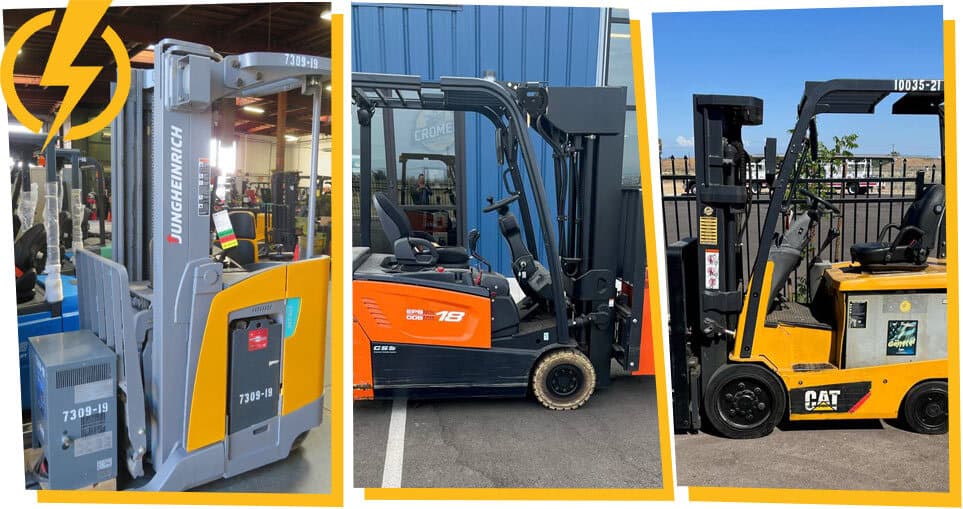 Yes, your local Cromer has used electrics in stock! Over 50 trucks, across all Cromer locations in California and Nevada. These include electrics from CAT, Clark, Hyster, Jungheinrich, Linde, and Mitsubishi.
Which should you consider? It depends on what you're replacing. Truck lifting capacity, job role, and brand all come into play.
Here's some example use cases for each of the electrics:
CAT = Works well wherever you use it, due to their versatility.
Clark = Good for retail environments, due to their agile three-wheel design.
Hyster = Good for narrow aisles in warehouses & retail.
Jungheinrich = Good for long warehouse shifts, due to their extra-long battery life.
Linde = Good for exterior shifts, due to their comfortable cabs.
Mitsubishi = Good as a backbone of your workflow, due to their long lifespans.
Replacing a larger LPG truck with heavy loads? Go with Jungheinrich or CAT.
Your daily-use forklift on the warehouse floor has aged out? A Mitsubishi or Linde will replace it easily.
Not sure which suits you? Ask your Cromer rep; they'll help you match an in-stock forklift to your job.
How Easy is it to Switch from LPG to Electric?
The main difference between LPG and electric forklift operations is power supply. LPG trucks use liquid propane, stored in tanks. Electrics use an electric charger, situated near your facility's power station.
Right away we see another advantage: Electric chargers take up much less space than propane tanks.
Electric chargers do draw higher current for charging forklifts than your lights. However, in many cases, the warehouse already has the electrical capacity to run these chargers.
So, all you'd need to do, to switch from LPG to electric forklifts:
Buy the charger. Most forklift chargers cost between $1,000 and $3,500.
Place it in a convenient space.
Get back to work.
When Your LPG Forklift Ages Out, Put a Used Electric in Its Place
These used electrics have been serviced and are ready to work. All are reasonably priced for sale. We even have a special deal in our Deal of the Month below.
Every forklift works hard to deliver product. Eventually though, even with good maintenance, they age out.
Facing that situation right now? Call your local Cromer for a used electric replacement.
We'll help you get the right electric, for the right job!
Until next month!
Marshall Cromer, The Forklift Boss
Cromer Material Handling
---
Deal of the Month
2014 Electric Clark TMX25 Forklift – $17,900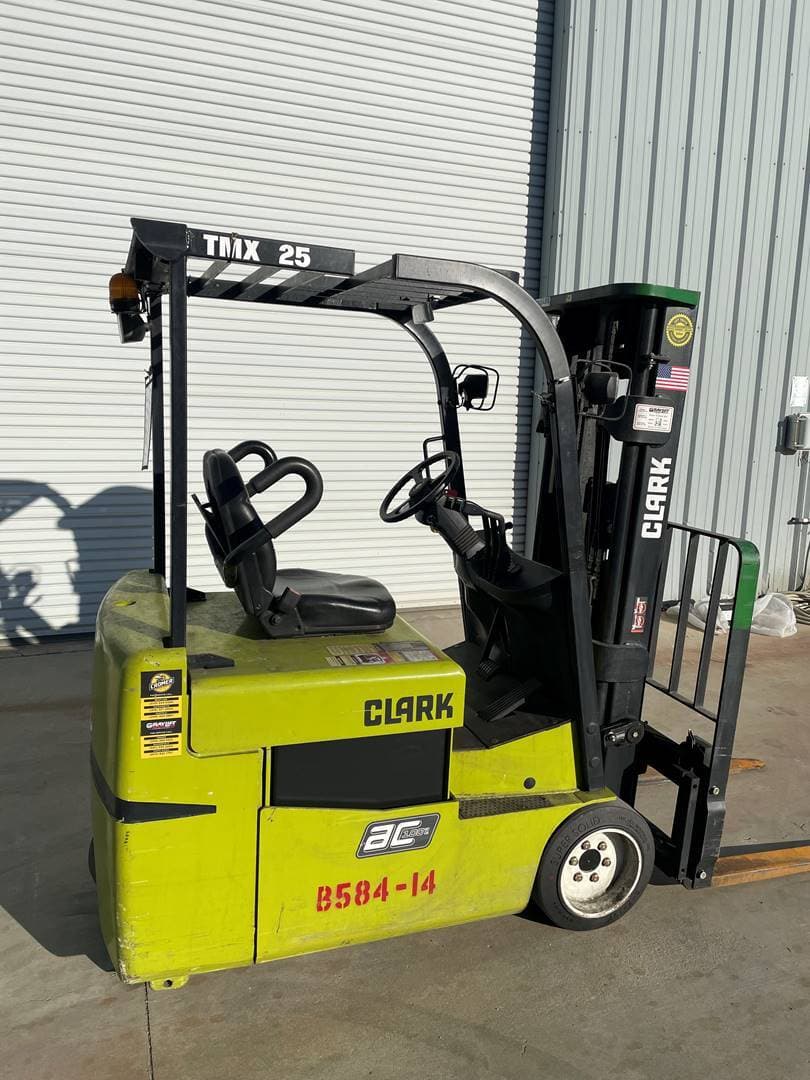 For our May Deal of the Month, we have one of the used electrics mentioned above. This is a Clark TMX25, made in 2014.
The TMX25 is a three-wheel forklift, which makes it good for indoor operations such as retail. It has a 5000# capacity, with an 83/188 triple-stage mast. It has 1,873 hours on it. The Cromer Service team has reconditioned the forklift, and replaced its battery, making it almost-new again.
The price for this Clark electric: Only $17,900.
To pick it up, call Cromer at 800.974.5438 and ask for the May Deal of the Month.