Sep 28, 2021
The 4 Best Forklifts for Efficient Warehouse Storage
The price of real estate keeps going up. At the same time, supply demand keeps climbing.
It puts all of our warehouses into a bind, doesn't it? How do we squeeze the most storage capacity & product movement out of every square foot?
Believe it or not, using the right forklift in the right place can boost everyone's efficiency. Let's talk about how.
The Forklifts You Use Improve Warehouse Efficiency
Warehouse storage is more than where you set up the racks. It also comes from how often you stock those racks, how fast you move product back and forth, and how predictable the workflow is day to day.
This newsletter will focus on moving product efficiently. These are the four forklift types we'll use.
Order picker
Reach truck
Counterbalance/Sit-Down
Ride-on Electric Pallet Jack
If we orient these to specific roles in the warehouse's product movement, we can see how they improve each stage's efficiency. From bringing product off the dock, to storing it up to maximum capacity, to shipping it to a new dock for transport out.
The Four Stages of Product Movement
STAGE ONE: UNLOAD
Efficiency Improvement – Pulling pallets off the shipping trucks fast.
Best Forklift to Use – Ride-On Electric Pallet Jack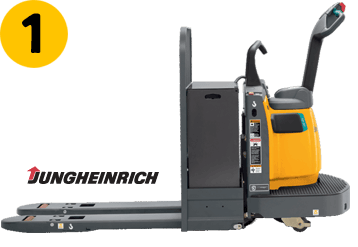 Value – Unload trucks fast, and move the pallets to the staging area.

STAGE TWO: STORAGE
Efficiency Improvement – Storing pallets and/or individual product in an orderly fashion, making the most of available rack space.
Best Forklift to Use – Reach Truck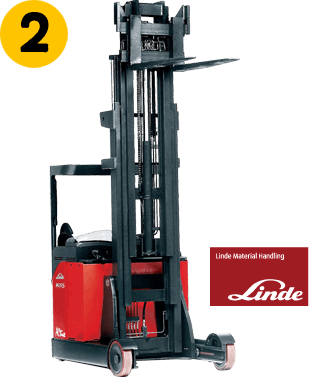 Value – Moves product from staging to warehouse's rack, navigating narrow aisles and storing at high elevations.
STAGE THREE: RETRIEVAL
Efficiency Improvement – Shortening the time needed to source, pick up, and move product from rack to floor.
Best Forklift to Use – Order Picker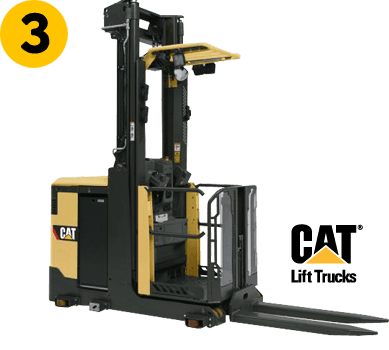 Value – Picks individual orders from the warehouse's storage, and delivers them to pallets on warehouse floor.
STAGE FOUR: SHIPPING OUT
Efficiency Improvement – A quick, smooth pattern of moving pallets/product from the warehouse floor to the proper dock.
Best Forklift to Use – Counterbalance/Sit-Down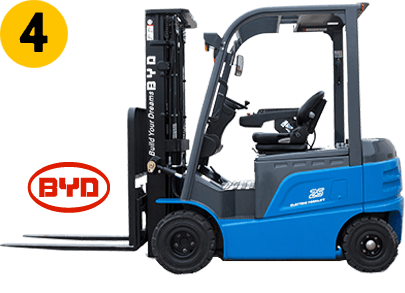 Value – Easy to collect & load pallets while following set patterns every day.

One truck per stage, one job per worker. Everyone knows where to go, at what time. It's the most efficient use of forklifts in a warehouse's product flow.
What kind of efficiency improvements should you expect from this?

Stage One: 5-10% time savings vs. using a sit-down forklift
Stage Two: 5-10% greater space efficiency
Stage Three: 10-15% time savings vs. pulling pallets down, selecting product, and putting them back
Stage Four: 5% time savings on each shift
Why Doesn't Everyone Do This?
Does your facility work like this? If it doesn't, that's okay, you're not alone.
Some warehouses use the wrong forklift type. They may not have all four types available, so they make do.
A reach truck can do some of the load/move functions of a counterbalance, but it takes more trips and can slow down other workflows.
Can you get by without all four? You can, but it costs some efficiency, and can reduce storage capacity.
For example, using a counterbalance forklift to store product on racks means the aisles between said racks must be at least 12 feet wide. This reduces the total number of racks you can fit in a given space.
By contrast, a reach truck only requires aisles of 9.5 feet wide. Saving 2.5 feet per rack means you can add one more rack for every 5 you have!
How Much More Efficient Can You Make Your Warehouse Storage?
Several brands make forklifts of each type. We've had particularly good experiences with Jungheinrich's electric pallet jacks & sit-down forklifts.
If you want to try this product flow out for an efficiency test, our rental fleet's ready to help.
Until next month!
Marshall Cromer, The Forklift Boss
Cromer Material Handling