Oct 27, 2021
The Health Risks Lurking in Your Forklift Batteries (and the Safer Option)
When we think of warehouse accidents, we tend to think of examples like:
Product falls off rack
Forklift hits a worker, or knocks a pallet over
Product spill off dock
We don't think of "forklift battery poisoning operator."
Sadly, when you have forklifts running on lead-acid batteries, this is an unfortunate hazard. Not all forklift batteries are born equal. Nowadays, we have better, safer battery choices.
The Health Risks Lead-Acid Forklift Batteries Present
Maintaining lead-acid batteries carries high risk. You may already recognize some of these, but it's good to remind ourselves:
Conventional batteries use a liquid "electrolyte" which contains sulfuric acid. Not only can this spill or leak, but it off-gases a toxic gas.
While batteries recharge, they generate hydrogen gas. Hydrogen gas can explode if not well-ventilated!
The voltage can ignite flammable materials, like solvent fumes or hydrogen gas, during battery maintenance.
Overwatering and underwatering can both damage the battery, so it needs frequent checking, exposing operators to the battery's chemicals.
Without specialized disposal, lead-acid batteries can seriously pollute the environment.
Given their extreme weight, it's easy to drop them during battery swaps.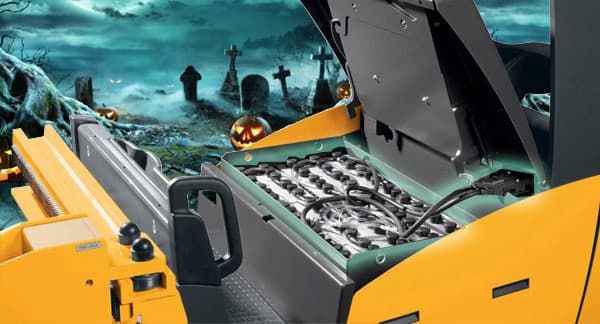 Charging is when operators interact with lead-acid batteries the most, and therefore the most dangerous time. But most workers don't think of it, because charging's such a routine task.
What kind of injuries come from battery maintenance?
Crushed limbs from a battery dropping.
Burns from battery-triggered fires.
Repetitive strain injuries to the arms & back.
Respiratory issues from off-gassing.
Eye/skin damage from acids & gas.
If that's not enough, the battery can damage racks, pallets, and forklifts just as easily as they injure workers.
As we head into holiday season, let's remember good health & safety practices for working with lead-acid batteries:
Wear personal protection equipment such as protective eyewear, a face shield, and gloves when working on batteries. No exceptions.
Use a battery lift when swapping batteries, not a trio of workers, or another forklift!
Make sure your battery charging area is well-ventilated. Install a fan to vent away any off-gassing.
Keep all operators' safety training up to date.
Whenever possible, replace old lead-acid battery forklifts with forklifts using the latest battery technology.
The Better Choice: Use Lithium-Ion Batteries
Almost all newer electrics run on lithium-ion rechargeable batteries. They're great for long shifts with less maintenance.
Why? Because their design eliminates most of the lead-acid health risks. Lithium-ion battery cells use individual seals and safety add-ons to make them almost maintenance-free. Eliminate the need for tasks like watering & changing, and you drop the chances of accident or injury way down.
But are they the safest battery type you can use? Not quite. They still present a few risks:
Replacement hazards, when you swap batteries for charging between shifts. The crushing risk is still there.
Environmental risks from the (few) chemicals in the battery cells. Lithium-ion batteries require specialized disposal, or they can poison the environment.
So what's safer? Iron phosphate!
The Iron Phosphate Battery Wins for Safety and Performance
Iron phosphate batteries are the safest battery option for workers out there.
They do employ lithium in construction, but the real difference is that they use iron phosphate alongside lithium. This pair eliminates the toxic chemistry in other batteries, cutting out one of the two lithium-ion disadvantages entirely.
This also makes them 100% environmentally-safe! The only industrial battery you can throw in the dumpster without worry. Refer to our article on "Where Electric Forklifts are Going" for more details.
The other, crushing risk from dropping batteries? Iron phosphates have such short charge times that you shouldn't ever need to swap out. An iron phosphate battery can charge in 90 minutes, then go for 10 hours.
Where do you find an electric forklift running on iron phosphate batteries? You guessed it, the BYDs.
No heavy metals or toxic chemicals. Nothing to off-gas!
No need to water the battery at all.
Long life: Even after 10,000 cycles, the battery will retain two-thirds of its original charge capacity.
The only reason to ever change out a BYD battery is to replace it, if it fails under warranty. Since BYDs come with a 10-year warranty, you'll have a third-party rep conducting the replacement. Zero risk to workers.
Zero-Maintenance, High-Safety Batteries Do Exist
In terms of battery-related health risks, there's a bad option, a good option, and the best option. Lead-acid, while a longtime staple for forklift power, carries the most safety risks. Lithium-ion batteries have better safety. Iron phosphate batteries however, beat them out on safety and performance.
Until next month!
Marshall Cromer, The Forklift Boss
Cromer Material Handling
---
Deal of the Month
2019 BYD ECB18C FORKLIFT – $35,785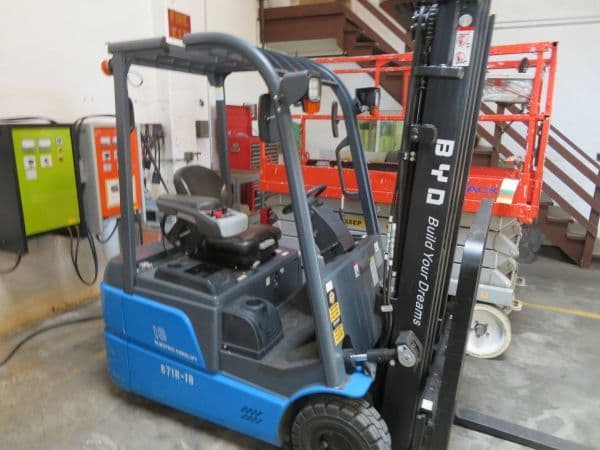 For our October Deal of the Month, we have a spooky-good deal for you – an ultra-safe, mid-capacity BYD electric forklift. This is an ECB18C, made in 2019, but it only has 175 hours on it. For BYDs, that's almost-new.
The ECB18C is a three-wheel sit-down truck, with a 4000# capacity and a three-stage mast. It's probably the most efficient electric in our inventory.
Curious to try out a BYD? Rent this truck! It's available for rent now, at only $1,449/month.
If you're ready to buy and want to jump on this deal, the sale price is only $35,785 for an almost-new electric that will go all day long. To pick up, call Cromer at 800.974.5438 today and ask for the October Deal of the Month.