Feb 26, 2021
Two More Reasons to Buy BYD Electrics This Year
It's been a while since we spoke about the BYD forklift brand. They've been busy this past year though—helping communities, producing new forklifts.
As we start receiving questions about new products and future rentals around this time, we wanted to share BYD's latest.
New BYD Equipment Models
BYD continues to add to their product line. They've released two new products for our industry: A fast-charging electric forklift, and a new electric pallet jack.
BYD ECC27 CUSHION TIRE FORKLIFT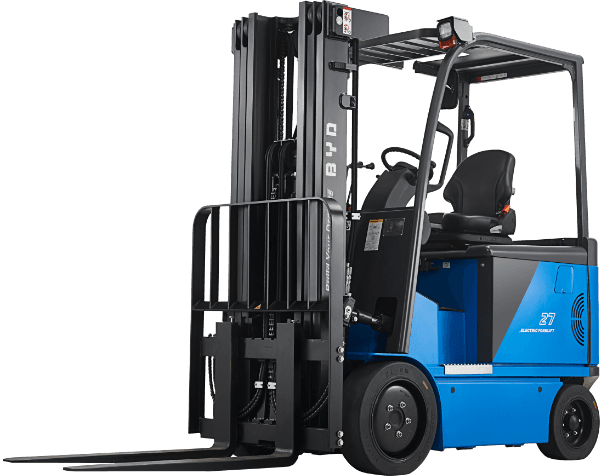 Small, but mighty! The ECC27 has a narrow design for easy maneuverability, but it packs a 6000# load capacity as well.
It'll run for over 12 hours on a single charge. Even better, its charge time is less than 60 minutes to full…50% faster than previous BYD models.
The ECC27 comes with either a 110V or 480V Fast Charger.
BYD PMW20 ELECTRIC PALLET JACK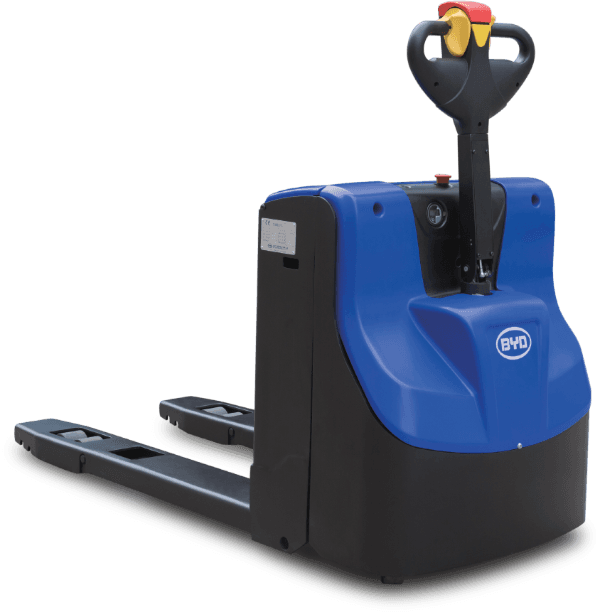 An iron phosphate battery in a pallet jack. The PMW20 gives you 8+ hours of run time, charges to full in less than 60 minutes, and it has "Pinwheel" functionality. It can do a 360-degree turn inside a trailer, letting your team load and unload fast.
The PMW20 comes with a 110V charger and a 10-year battery warranty. They have optional extras too, like different fork lengths, or a cold-storage option.
5 Strengths of BYD Products
Every forklift brand has its strengths, and BYD's no exception. If you've never tried one, you're in for a surprise. They're the direct result of ground-breaking battery technology...with a lot of value to our industry.
LONGER RUN TIME – A BYD's average run time is 12 hours. We can confirm that, based on our own use times. Several models will go longer with no trouble.

A larger lithium-ion battery will run 14-16 hours on average, but BYDs are much smaller & have more usability.

FAST CHARGE TIME – With iron phosphate batteries, you're looking at 1% charge every minute. Most BYD trucks will charge to full in 90 minutes.
CHARGING CONVENIENCE – You can plug these batteries in to charge ANYWHERE in your facility. No special equipment needed.
No extra OSHA-mandated procedures either. In fact, using BYDs reduces your OSHA compliance requirements!
10-YEAR WARRANTY – The best battery warranty in our industry. 10 years, 20,000 miles, no problem.
ENVIRONMENTALLY-FRIENDLY – A BYD forklift battery doesn't need fluids. No gassing. It's 100% recyclable too.
What BYD's Done for Its Customers & Community
I liked the BYD trucks before 2020. But this past year gave me, and all of us, more reasons to like them.
For one, they now make forklifts here in the USA. In January 2020, they announced a new manufacturing plant in Southern California. It's a little over 2 hours from our Bakersfield facility, so I can even drop by!
The company also made big shifts last year to help with pandemic protection. They repurposed a factory to making masks & disinfectants on industrial scale. Chances are you've seen the BYD logo on someone's mask recently. That's no accident.
Try a BYD Forklift in 2021
Cromer has several BYD forklifts in our rental fleet. You're welcome to demo them at our facility or yours. Just call your local Cromer and ask. They're only getting better—electrics are the future!
Until next month!
Marshall Cromer, The Forklift Boss
Cromer Material Handling
---
Deal of the Month
2019 BYD ELECTRIC FORKLIFT – ONLY $33,785
What better choice for a Deal of the Month than a hard-working BYD? This is a 2019 BYD ECB18, a perfect introduction to the long-lasting electric line.
This model has a 4000# capacity, with a three-stage mast and side shifter. Our techs have gone over everything and certified it as 100% ready to go.
To buy this ECB18, you pay only $33,785. Prefer to rent it first, as a test? It's available to rent at $1,449/month.
We only have one BYD ECB18 in stock, so don't wait around! Call Cromer at 800.974.5438 today and ask for the February Deal of the Month.