Aug 29, 2023
Would a Retired Rental Forklift Make a Good Addition to Your Fleet?
Marshall Cromer used to tell a story about a longtime customer of ours. He rented forklifts from us for seasonal pushes. One time he ended up with a certain Doosan forklift. Good solid forklift. We'd just added it to our rental inventory.
The next time he rented, he requested that same Doosan again. And again, the next year. He liked it so much that, after Marshall retired it from the rental fleet, he bought the forklift!
Was he smart to do that?
Yes, he actually was. This article will explain why.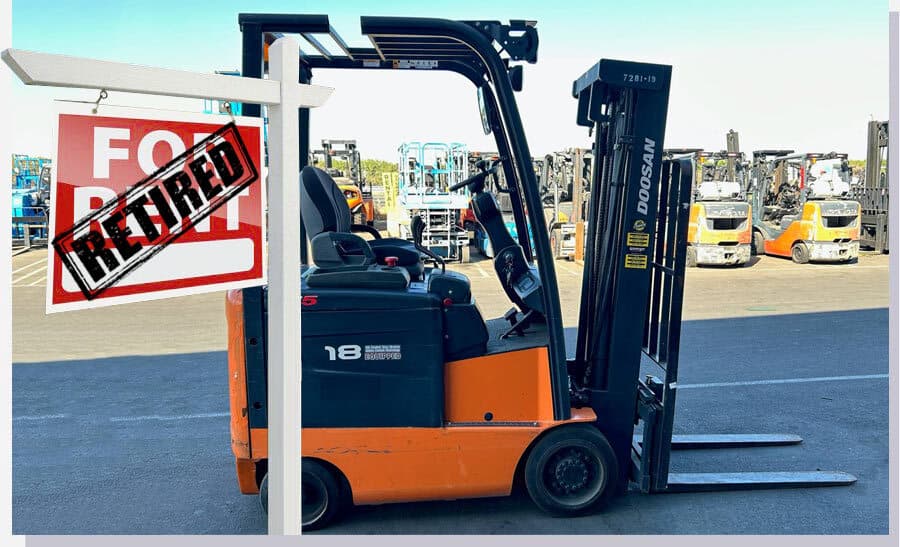 What Happens with Rental Forklifts When They Retire
Cromer retires rental forklifts after 3-5 years of rental use, on average. The forklift still has plenty of life left in it, but we prefer keeping newer units in the rental fleet so customers always have a reliable selection.
Our service techs then give the retired forklift a full inspection (and I mean FULL). Top to bottom checks for every component. Any & all repairs needed, done. Any components in need of replacement, replaced.
The forklift is brought as close to new as possible. Then we put it up for sale in our Used Equipment inventory.
We just did this with a batch of retired rentals (including our current Deal of the Month). Would they make good forklifts for your team?
Does a Retired Rental Forklift Make a Good Buy? Yes!
Retired rental forklifts have the same value as most used forklifts…and one big advantage over them.
For the value, consider all these points:
It's a quality product (or we wouldn't use it as a rental)
It's been maintained through the rental period
It still has operational life left in it
It's been reconditioned to its best possible state
All retired rentals come with a 30-day full/90-day powertrain warranty
The big advantage a retired rental has? You know exactly where the forklift has been!
From the moment Cromer puts a new forklift into its rental fleet, to the moment we retire it, we know to which customers it's been rented, and for how long.
So if you want to know, "Where did this forklift come from?" we can tell you every place & application it's been!
How to Confirm a Retired Rental Forklift is Up for the Job
Like any used equipment, it only makes sense to "trust, but verify." When it comes to a retired rental, check it over like you would any other used forklift.
Check the forklift for its quality & performance. Test drive it, check the forks and the brakes, and so on.
Use the elements in our How to Buy a Forklift guide as a checklist.
If you're unsure, ask to see service records! We will provide records on request.
Retired Rentals Make Great Used Forklifts. Try One Out!
We have three former rentals now available to buy in our Inventory. Here are links to each:
2017 BYD Electric ECB25B (more on this below)
2019 Doosan LPG Cushion Tire BC18S-5
When it's time for adding to your forklift fleet, put a retired rental in. It's a smart play, and it saves you on cost & time.
Until next month!
Doug Perez, General Manager
Cromer Inc.
---
Deal of the Month
2017 BYD ELECTRIC – ONLY $22,950
For our August Deal of the Month, we have a retired rental forklift, ready for work!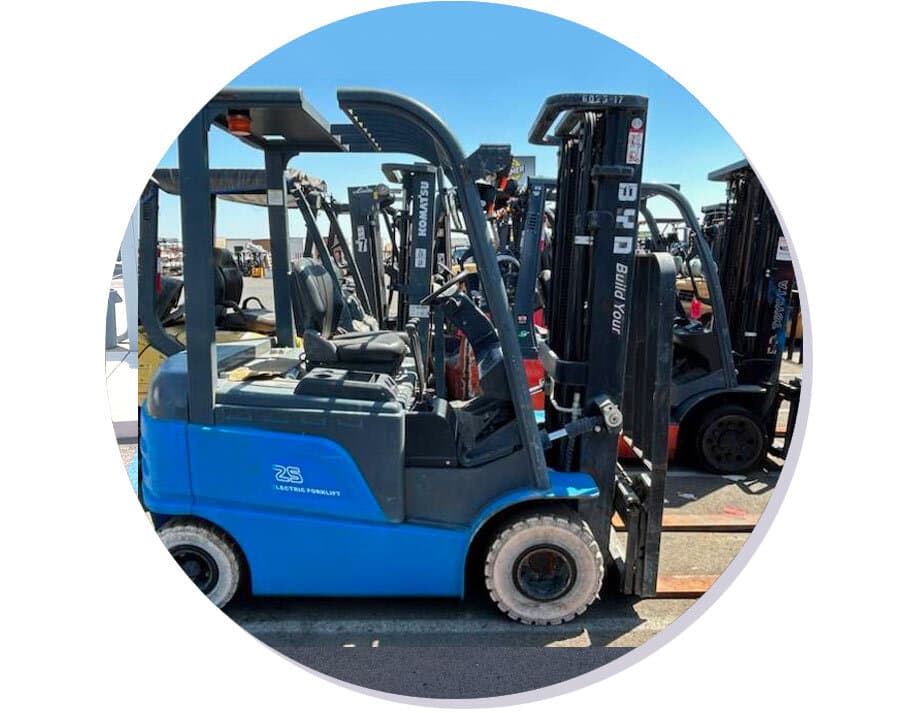 This is a BYD ECB25B sit-down, 2017 model. It has a 5,000# capacity, three-stage mast, and a clean electric battery. It's fresh off the Cromer rental fleet…you may have used it already!
We have this BYD electric at our Fresno facility right now. There's only one, and at this price, it won't stay on the lot long.
Pick it up today for only $22,950.
To pick up this BYD electric, call Cromer at 800.464.3225 and ask for the August Deal of the Month.